SS TUBE MILL MACHINE
SHREE AMBICA ENGINEERING WORKS manufacture machines without compromises in order to guarantee maximum reliability to the Customer, continuity of production, consistently high quality of STAINLESS STEEL TUBE MILL, low cost of toolings and maintenance.
Our machines are able to produce stainless steel pipe/ tube under mass production. The process of machine work, starting from flatting, forming, welding, polishing, sizing, straightening, finishing, cutting, and tube unloading, can be achieved at one time. The stainless steel strips are made to go through various quality checks and are trimmed at the edges.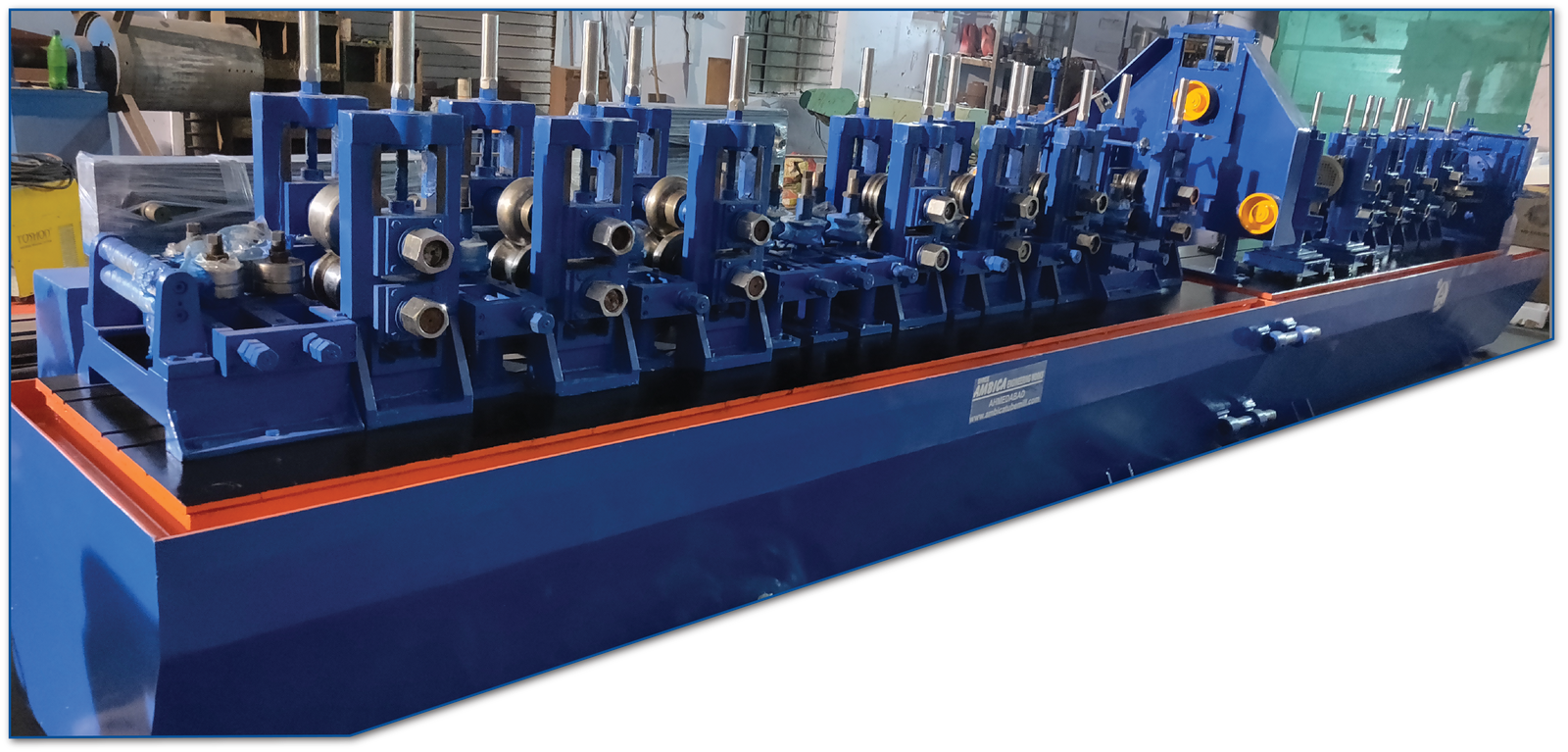 Product Application
Stainless Steel Tube Mill Can Make Different Type Of Stainless Pipe/Tube Which Are Round, Square, Flat Square Types. Widely Used In All Kinds Of Clothes Racks, Retractable Poles, Tables And Chair Legs, Indoor Handrails, Ship And Bus Racks, And Outdoor Guardrails, Etc.
| Model | Round Tube size range (mm) | Square tube size (mm) | Thickness (mm) | Power (kw) |
| --- | --- | --- | --- | --- |
| AEW TM-15 | Ф8-Ф16 | 6×6-12×12 | 0.3-1.0 | 21 |
| AEW TM-25 | Ф9.5-Ф25 | 6×6 – 20×20 | 0.6-1.5 | 24 |
| AEW TM-40 | Ф12-Ф40 | 8×8 – 30×30 | 0.6-1.5 | 26 |
| AEW TM-63 | Ф12-Ф63 | 8×8 – 50×50 | 0.6-2.0 | 32 |
| AEW TM-76 | Ф25-Ф76 | 20×20 – 65×65 | 0.8-2.0 | 38 |
| AEW TM-100 | Ф38-Ф100 | 30×30 – 80×80 | 1.0-3.0 | 43 |
| AEW TM-125 | Ф50-Ф125 | 00×40 – 100×100 | 1.0-4.0 | 50 |
| AEW TM-150 | Ф50-Ф150 | 40×40 – 125×125 | 2.0 -5.0 | 63 |
| AEW TM-175 | Ф60-Ф175 | 50×50 – 140×140 | 3.0 – 6.0 | 100 |
| AEW TM-200 | Ф60-Ф200 | 50×50 – 160×160 | 3.0 -6.0 | 115 |